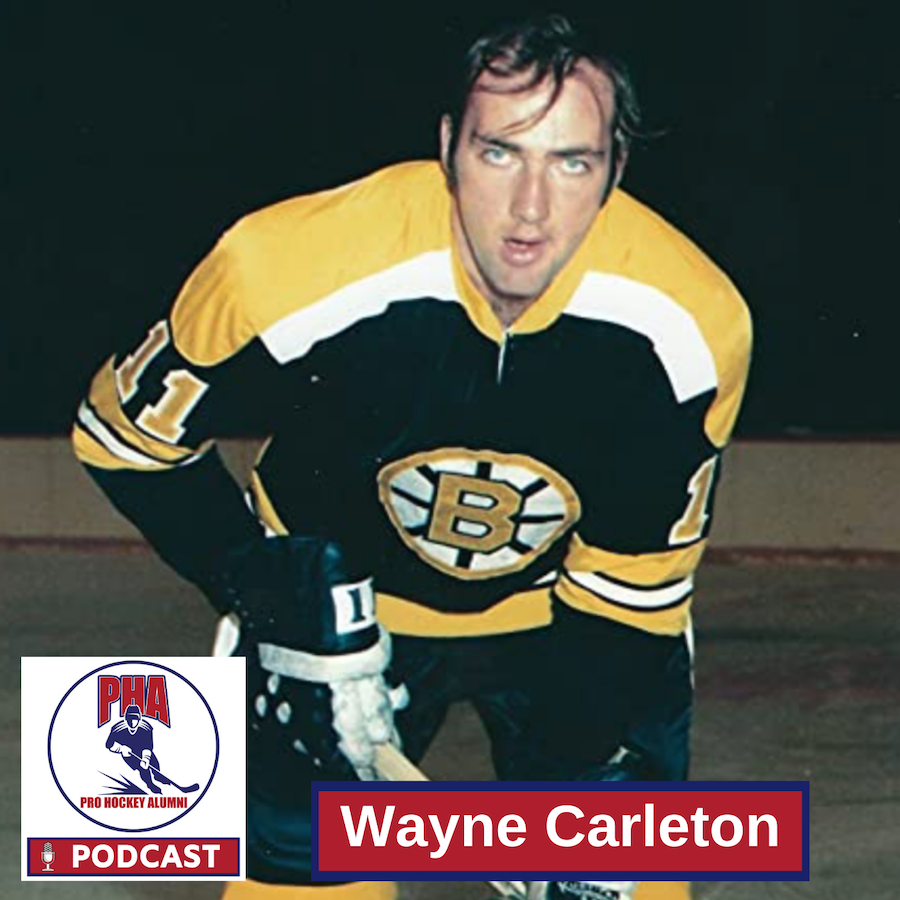 Our guest on episode 71 is Wayne "Swoop" Carleton, who was an important part of the Boston Bruins 1969-70 Stanley Cup championship team. In fact, he was on the ice when Bobby Orr scored his famous Cup-clinching goal in the fourth game of the 1970 Stanley Cup Final.
Carleton played junior hockey for the Toronto Marlboros, from 1961-1966 and he played a starring role in the Marlboros 1964 Memorial Cup championship.  After a brief stay with the Toronto Maple Leafs, Carleton was traded to the Bruins during the 69-70 season.  With Boston he teamed with Derek Sanderson and Eddie Westfall on a productive third line, which played especially well in the post season.
At the conclusion of a 22-goal 70-71 campaign with the Bruins, Carleton was claimed by the California Golden Seals in the intra league draft.  After one season in Oakland, Carleton was one of many Seals players who would jump to the fledgling World Hockey Association.
Carleton became an all star in the WHA topping the 90-point mark in 1972-73 with the Ottawa Nationals and in 1973-74 when that franchise moved to Toronto and became the Toros.  He was later traded to the New England Whalers, where he played in the Whalers first season in Hartford before being traded to Edmonton for Mike Rogers in 1975-76.  Carleton suffered numerous knee injuries throughout his career and after brief stretches in Edmonton and Birmingham, he retired from big league hockey.
Wayne's got great stories to tell of his interesting career --  and the timing is perfect as we celebrate the 50th anniversary of the Bruins 1970 Stanley Cup championship.
Host:  Mark Willand