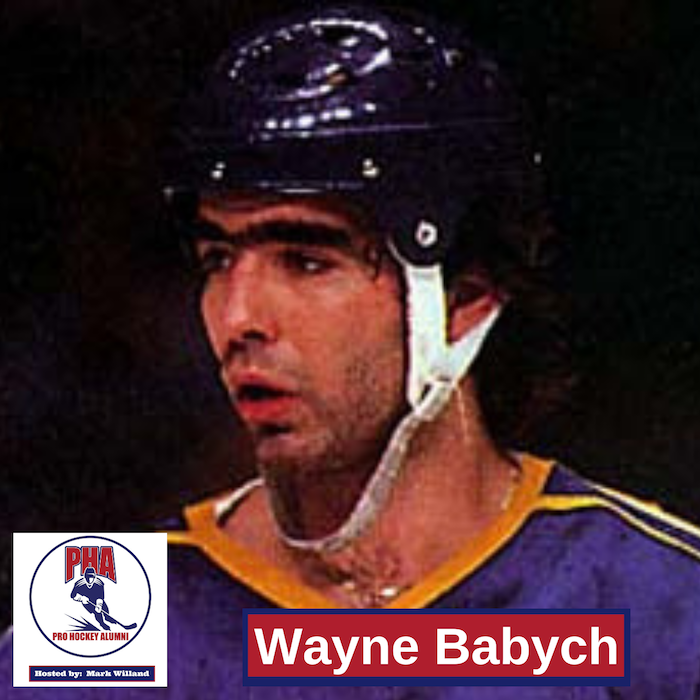 With the St. Louis Blues winning the Stanley Cup, what better time to talk with Blues legend Wayne Babych — the first 50-goal scorer in franchise history.
A great shooter, who who could mix it up with anyone, Wayne was drafted third overall by the Blues in 1978.  As a rookie in 1978-79, he scored 27 goals in 69 games playing RW on the Blues "Kid Line" with Bernie Federko and Brian Sutter as he finished third in the rookie of the year voting behind.
After scoring 26 goals in just 59 games in the next season, Wayne hit his stride in 1980-81 as the upstart Blues battled for the top overall record in the NHL.  Coach Red Berensen paired Wayne with center Blake Dunlop and LW Jorgen Pettersson and Wayne responded with 54 goals — a league-leading 40 of which were scored even strength — and he played in the 1981 NHL All Star Game.
The following pre-season, however, Wayne suffered a severe shoulder injury that would hamper him for the rest of his career.  After three more solid seasons in St Louis, Wayne joined the Pittsburgh Penguins in 1984 and had the distinction of being Mario Lemieux's first regular RW.
Wayne eventually landed in Hartford, where he joined brother Dave in the Whalers unlikely 1986 playoff run.
In retirement Wayne and Dave Babych have committed much of their time to helping a variety of worthwhile causes and positively impacting lives round the world.
We cover it all  — the Blues, the fights, the fun and the tragedies — in this entertaining conversation with Wayne.
Host: Mark Willand